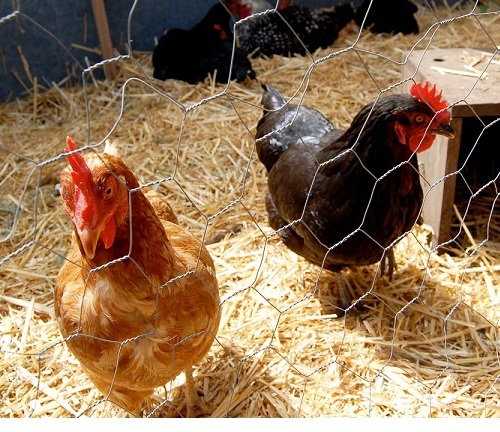 Chicken Wire Mesh
Price And Quantity
Square Foot/Square Foots

100
Square Foot/Square Foots

7.00-412.00 INR
Product Description
Chicken Wire Mesh
Chicken wire, or poultry netting, is a mesh of wire commonly used to fence poultry livestock. It is made of thin, flexible galvanized steel wire, with hexagonal gaps. Available in 1 inch (about 2.5 cm) diameter, 2 inch (about 5 cm) and 1/2 inch (about 1.3 cm), chicken wire is available in various wire gauges usually 19 gauge (about 1 mm wire) to 22 gauge (about 0.7 mm wire). Chicken wire is occasionally used to build spacious yet inexpensive cages for small animals (or to protect plants and property from animals) though the thinness and zinc content of galvanized wire may be inappropriate for animals prone to gnawing and will not keep out predators.
In construction, chicken wire is used as a matrix to hold cement or plaster, in a process known as stuccoing. Concrete reinforced with chicken wire yields ferrocement, a versatile construction material.
We also manufacture and suppliers of Hexagonal Wire Mesh, Screen Crimped Wire Mesh, Stainless Steel Diamond Wire Mesh, Nylon Wire Mesh, Plastic Wire Mesh, Spring Steel Wire Mesh and Metal Wire Mesh. In addition to this, we also offer Crimped Wire Mesh and Metal Crimped Wire Mesh.
Usage:

Industrial and Agricultural Constructions as Reinforcement
Reinforcement material and substrate to cement in brick less walls
In buildings as reinforcement of the roof and floor
Light fencing for poultry farms, bird cages, tennis courts and fish garden, and children playground
Covering glass wool and rock wool in pipeline and boilers insulation

Technical Specifications:
Mesh

Wire Gauge (SWG)

Inch

mm

1/2"

13 mm

28 G to 20 G

3/4"

20 mm

28 G to 19 G

1"

25 mm

25 G to 18 G

1-1/2"

38 mm

21 G to 17 G

2"

50 mm

20 G to 15 G